About us
M & J Plumb are a small friendly, caring family enterprise, established in 1997 as a farm diversification. Our aim is always to provide a quality service at a reasonable rate.
'M' is for Mike, who manages all the practical aspects of the partnership – no-obligation quotations, health & safety and quality control. Mike is always on site, to oversee and undertake all works. This ensures M & J Plumb will always turn up on the agreed day and will provide a cost effective package for all clients.
'J' is for June, whose responsibility is to 'manage all aspects involving paper & computers'.
M & J Plumb work within both Public & Private Sectors – 'no shrub too small, no tree too tall'.
No work is sub-contracted.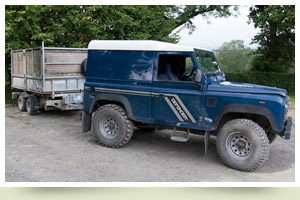 We take great pride in the fact that most of the work we undertake in the private sector, comes from the recommendations of satisfied clients.
Public sector clients include Pembrokeshire County Council and Pembrokeshire Coast National Parks.
All personnel are trained and insured, they receive ongoing training and updating, to keep within  latest safety guidelines .
We have Public Liability insurance of £5,000.000 & Product Liability of £5,000.000. Employers' Liability Insurance of £5,000.000.
M & J Plumb is registered with the Environment Agency as a carrier of controlled waste.